If you've been peeking around
my Flickr account
, you've probably noticed some photos labelled
Organic Campus
. Organic Campus is a club at McGill that I just "joined"; every Tuesday I go and pick up my basket, then I pay $10 for next week's. While the basket is not all local Quebec food (the stickers on some of the vegetables say they're from the states), it's still pretty reflective of what grows in the area at this time of year. There's also baked goods like cinnamon rolls and zucchini breads that you can buy with the basket, but I never do because I'm a whole grain snob.
I've had a bit of fun trying to incorporate these foods into my diet; making potato dishes again, making applesauce, trying to prepare Jerusalem artichokes and failing... You can follow my weekly baskets
in this Flickr set
, and I'll be sure to share some of the meals I create with these vegetables too!
One of the things I made early on was this cinnamon carrot bread:

The first time I made this bread was actually for a potluck two years ago; the theme was "soup and bread" and I was the only one who made bread, so they went out and bought bread anyway because this bread is relatively sweet and doesn't take to soup very well. For this version, I tweaked the recipe to decrease the amount of sugar and (of course) replace the oil with applesauce, which I actually made myself with the apples from the basket!

Applesauce
This is a "recipe" that I learned from some friends who lived in my residence in freshman year. It is so, so good warm from the pot, but one day I would really like to can this stuff.


Apple juice/water
Apples, peeled and diced
Brown sugar and cinnamon (optional)

In a medium/large pot (depending on how many apples you have), pour in apple juice or water just until it covers the bottom of the pot.
Add in apples and simmer until apples have softened.
Using a potato masher, mash apples until purée is formed.
You can leave it unsweetened, especially if you're going to be using it in baking, or season with brown sugar and cinnamon to taste.

And now for the bread:

Cinnamon Carrot Bread
Adapted from Allrecipes.com
Makes 1 9" x 5" loaf


125 mL (½ cup) white sugar
30 mL (2 tbsp) packed brown sugar
185 mL (¾ cup) unsweetened applesauce
500 mL (2 cups) whole wheat flour
10 mL (2 tsp) baking powder
5 mL (1 tsp) baking soda
5 mL (1 tsp) ground cinnamon
2 mL (½ tsp) ground nutmeg
2 mL (½ tsp) ground ginger
2 eggs
1 pinch salt
250 mL (1 cup) grated carrots
60 mL (¼ cup) chopped walnuts/pecans
60 mL (¼ cup) raisins
2 mL (½ tsp) vanilla extract

Preheat oven to 175°C (350°F). Grease and flour a 9 x 5 inch loaf pan.
In a large bowl, beat together the sugars and applesauce. Sift flour, baking powder, baking soda, cinnamon and salt into the bowl while stirring occasionally. Beat the eggs together, and gradually stir into the batter until everything is combined. Mix in carrots, nuts, raisins and vanilla until well combined. Pour batter into prepared pan.
Bake on middle rack for 60 minutes, or until it tests done. Cool in pan for 10 minutes, and then turn out onto wire rack to cool completely.

Part of a complete breakfast.

This is my submission for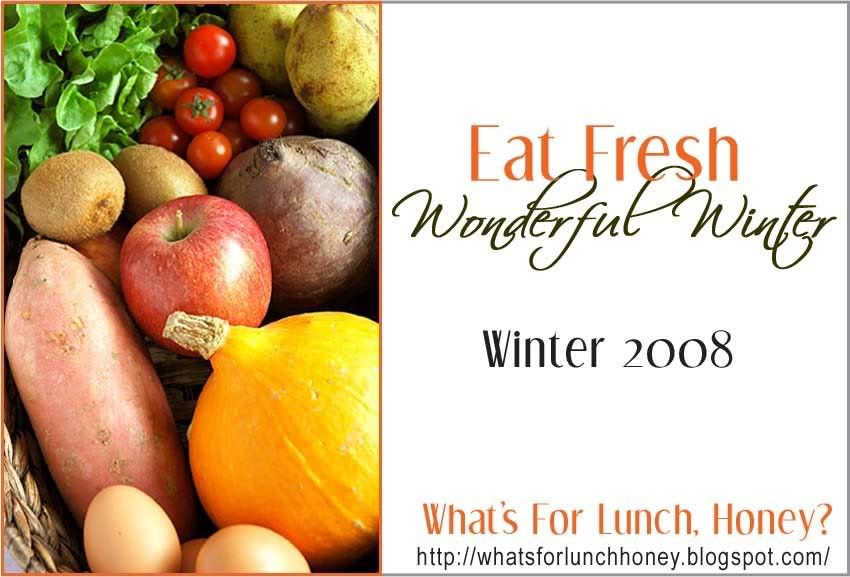 hosted by What's For Lunch, Honey?